Please enter password:
Password is incorrect
Submit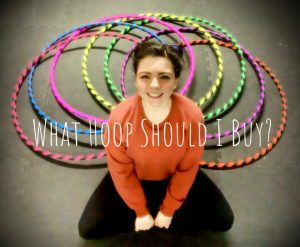 Wondering what hoop to buy then your in the right place!
This time size does matter as finding the right size hoop for you is essential for being able to dance hoop and keep the hoop on your body!
Here are a few tips and tricks for you to be able to choose the right hula hoop:
– Usually, if you measure from the floor up to around your belly button that will give you a good approximate hoop diameter size. Most hula hoop retailers in store and online will sell their hoop by diameter. You can hula hoop with a smaller hoop just bare in mind that the smaller the hoop the faster you have to spin to keep it on your body.
– The width and weight of the hoop tubing that the hoops are made of can make them different in performance. Generally there 3 types of hoops; Fitness/weighted (25mm), Dance/Regular (20mm:3/4″) and Polypro/Light weight (16mm:1/2″ 3/4″ 5/8″) however there can be other variations so always check with your hoop seller/maker.
– If you want to use your hula hoop to dance and do tricks with a dance hoop is great for learning on and off body movements and a excellent all round beginner hoop. Fitness hoops can also be used however these tend to be quite bulky and make it difficult to do certain moves.
– If you are a very confident hooper and hooping on and off body is very easy then a light weighted polypro hoop is a good alternative to your hoop stack. With this hoop being very light and fast it enables you to do mega fast ninja spins however is more difficult to waist hoop due to the light weight so for hoopers who can confidently waist hoop.
– Many hoopers (my self included) have a variety of hoops in there stack as they progress on their hoop journey. So you may in the future end up with more than one hoop which is great!
Links to hoops that we have at kraken and a few that I have if you want to check them out. Great for complete newbies to beyond!
Beginner Dance Hoop 90cm https://www.firetoys.co.uk/hula-hoops/echo-hoops-collapsible-travel-hoop.html
Polypro https://www.etsy.com/uk/shop/RainbowDragonPoi
(Also places like Ebay, Amazon and Etsy have a few listed too)
Hope this helps everyone! Let me know what you think!
~ Becky x